EPISODE #6
Turn the Corner
Premier Date: 09/13/2011
==================================================================
Contestants are shocked to see two Top Shot champions return as honorary captains for the team challenge. First Season Winner Ian Harrison guest captains the
BLUE
Team and Second Season Winner Chris Reed guest captains the
RED
Team, with each team sponsoring a designated charity who will stand to win $5000.
BLUE
Team's charity is the Wounded Warrior Project, and
RED
Team's charity is the Make A Wish Foundation. The Marksmen will compete with a just-released, ultra modern assault rifle and an Israeli made special forces gadget. Tensions flare when an argument erupts between two competitors on the same team.
==================================================================
The first Team Challenge involves using a newly released AR platform from VLTOR...the TS3. The competitors must run and shoot under stress between 5 platforms 16 feet apart, connected by ropes of various design...shooting at two targets set at 75 and 100 yards in front of each platform. The team that hits all their targets and transitions the fastest between the platforms ( fastest time total ) wins the challenge.
RED
Team goes first and burns up the course, finishing in 2 minutes and 27 seconds. The
BLUE
Team has a slow start when Billy takes 14 shots to hit the first two targets...then they pick up the pace a little and finish with a time of 3 minutes and 12 seconds.
RED
Team wins the challenge and the Make a Wish Foundation wins the $5000 prize donation.
WINNER
:
RED
Team
=================================================================
The nomination picks for the Elimination challenge for the
BLUE
Team are: Jake & Paul
( And Jake is pissed !! )
=================================================================
The
BLUE
Team members now move on to the Elimination event which involves using the Israeli made "Corner Shot"... which uses a platform designed to hold a Glock 18 in a frame that pivots around corners and uses a heads up video display to let the user stay hidden behind cover while negotiating the shot. The two contestants go one at a time as they run to 3 separate stations and engage 3 targets ( jars ) set at 35 feet around barriers...first left...then right...then through a opening above...the first contestant to hit all 9 targets the fastest wins the challenge. Paul goes first...runs to the first stage and hits the first target with the first shot, then hits the second target with the third shot and then the third target with the fifth shot. Then he scrambles to the second area...hitting his three targets in six shots...then runs to the third area and hits three for three...finishing with a time of 2:34.
Now it's Jakes turn...he scrambles up to the first stage and hits all 3 jars with just 3 shots...goes to the second stge and does the same...3 for 3...and then repeats it again 3 for 3...using unbelievable skill to win the challenge in only 48 seconds.
WINNER
: Jake ( who takes out his frustrations on being nominated on his
BLUE
Teamates )
==================================================================
VLTOR TS3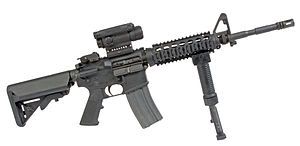 ISRAELI CORNER SHOT